Not terribly familiar with the various styles & types of hats? Here's a quick
chart
to bring you up to speed.
Many more hats & veils will be uploaded shortly!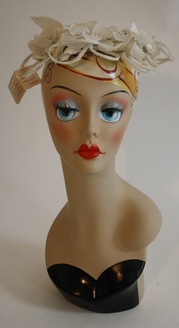 Veil/Headpiece #101 ~ Exquisite Off-White 1930's/40's Floral Headpiece w/Original Sales Tag
This headpiece requires only the tulle or lace to make it an exceptional antique wedding veil. It's still 'new' with the original sales tag! Originally priced, back then, at $100, then marked down to $24.99. In excellent condition!
Per
Wikipedia
: 'The Popular Dry Goods Company was founded in 1902 (in El Paso, TX) by Adolf Schwartz. In 1907, the Popular moved from the northeast corner of El Paso and Overland Streets to Mesa and San Antonio and consisted of three floors by 1914. In 1917 Schwartz transformed The Popular from a general store to a modern department store with a six-story building on Mesa and San Antonio Streets.'
Please click on the thumbnails photos below for further details.
Price $115.00
---
---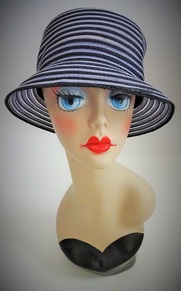 Hat #113 ~ Vintage 'Miss Bierner' Black & Light Grey Striped 'Bucket' Hat w/Back Ribbon Bow!

In superb condition! This vintage straw hat is still crisp and clean and ready-to-wear. Made by 'Miss Bierner'* in black and soft grey with a large ribbon bow displayed prominently in the back. Please see additional photos below for details.

Price $35.00

*The Bierner Hat Company has been in business for over 100 years. It is a division of F&M Hat Company, Inc. and is located in Denver, Pennsylvania.
---
---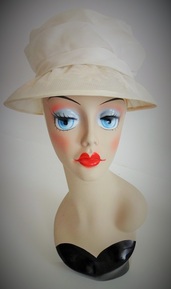 Hat #114 ~ 1960's Creamy Ivory Organdy Mushroom/Bucket Hat w/Daisy Accents

This is a very versatile and fun hat! The organdy fabric is made into bands that are layered up the hat (see photos). Really, really cute. There are large, embroidered daisy appliqués in the front, on the underside of the brim, so that they peek though the top (again, see photos). No inside tags. In wonderful condition. This hat would also look terrific with ivory tulle or wide, coloured ribbon trailing off the back, as a wedding hat!

Price $45.00
---
---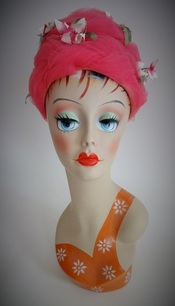 Hat #115 ~ 1950's/60's Hot Pink Tulle & Flower 'Beehive' Turban by 'Joske's of Texas*'

How much fun is this hat!? Made of hot pink tulle, this beehive-styled hat is just a hoot! Flower accents with green leaves are quite eye-catching. Just add a big bumble bee pin and you're all set. Made by 'Joske's of Texas', this vintage hat is in good condition, showing some slight fading and some dirt on the inside band (see photos). This hat is definitely a collectible! It has a 21" inside circumference, so please measure to ensure that it will fit.

*Joske's was a San Antonio, Texas-based department store that opened in 1867. In 1887 the store was moved to the corner of Alamo & Commerce Streets (hence the mention on its labels). In 1987 the Joske's chain of stores was sold to Dillard's, based in Arkansas, thus ending over 100 years of its Texas-based retailing superiority.

Price $65.00
---
---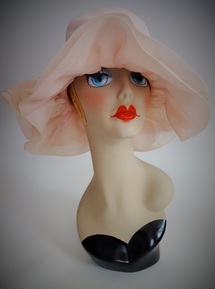 Hat #119 ~ Vintage Pink Organdy Portrait Hat w/Double Ruffle Brim & Bow

Oooh la la! This hat is chic and flirty and oh-so-pastel-PINK! This is a softer hat, made of a crisp organdy. The brim consists of two layers of luscious pink organdy, tied with a big bow. Labeled as a 'French Room Design'. Many high-end clothing stores offered 'French Room' items that were geared to a more affluent clientele, including the now-defunct 'Stix Baer Fuller' department store in St. Louis, Missouri (1892 to 1984). Unfortunately, I cannot authenticate where this hat originated, but it certainly does have the look, style and quality of higher-end store.

There is a very slight color variation (see photos) at the crown of the hat and in various places on the brim fabric. This could be from aging and/or perspiration, but I would think that a good cleaning will freshen it up nicely.

Price $85.00 SOLD
---
---