Please understand that these are VINTAGE items and are sold 'as is'!
If you assume that ALL vintage items will have flaws, then you will not be disappointed (although I pride myself on offering vintage items that are in very-good-plus to excellent condition, for their age). Each item is rated on a scale of 1-10, with 10 being perfect/mint condition FOR ITS AGE. Anything that scores below a 7, can be found on the '
Fabulous, but Flawed
' page.
ONLY ONE OF EACH ITEM IS AVAILABLE!

It's important that you understand that you are not able to order multiples or a different size or colour of any of these items. What you see is what is available for that item ~ nothing more.
The newer 'modern' items are also sold 'as is', as they are new old stock, store samples, gently used, unsold, excess, or discontinued inventory. Many still have their tags, others may be new without tags.


All items are priced accordingly and any flaws are listed within each items' description. Please ask questions if you are in doubt.
---

Payment Options ~
PayPal is the accepted and preferred method of payment
. It's generally simpler and easier to manage from both ends. If you do not have a PayPal account, please click
here
~ it's free.
If you are interested in purchasing a gown or dress, particularly a vintage one, then it's imperative that measurements are carefully compared to ensure a good and proper fit. Vintage clothes were cut and sized quite differently, so please bear with me on this....
If you find something that you are interested in, and I hope that you do, please contact me to check availability and to compare measurements!!
I cannot stress the importance of this enough!
If you use the checkout option, please forward your measurements for comparison. The gown will not be shipped until measurements are compared, or until I receive acknowledgement that it is understood that the gown is NOT returnable, as all sales are final.
​These items are in very-good-plus to excellent condition, and when purchased, are shipped to you in the same, or better, condition as when I received them. These gowns are not rentals, nor are they kept 'on the racks' to be repeatedly tried-on, worn, returned, and dry-cleaned. Since returns are not allowed, you can rest assured that the gown that you order has not been (recently) worn, stretched/strained, soiled, or not stored well.
---
---
Return Policy! ~
All sales are FINAL ~ but this is why measurements are carefully compared prior to shipment (see above & below)!
---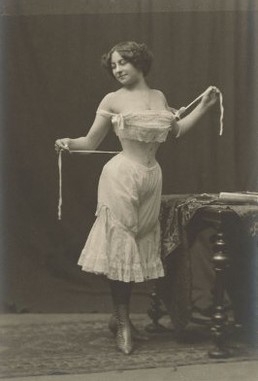 But, Will It Fit!?!!??! ~
Measurement comparison is key
! I cannot overstate that. To ensure a good and proper fit, your exact measurements ~ bust, waist & hips, to start ~ are required. If you are uncertain how to properly measure, please review the 'How to Measure' chart on our '
Helpful Info & Links
' page.
If the gown simply will not fit, I will be candid and simply tell you so.
Over the course of the previous 12+ years, when I ran my first websites, I had only one return. The bride-to-be needed to make installment payments and, after a few months when the gown was shipped & she tried it on, she realized that she had gained 60 pounds. Poor thing, she was so upset and I accepted that one return.
As stated, that was my only return in well over a decade of online vintage clothing sales. I've not had a problem with improper fit since my re-launch either, so in other words, I feel quite comfortable 'fitting' a gown via long distance and want you to feel that same comfort level, as well.
---
---
Placing a Gown or Dress on 'Hold' ~
Gowns and dresses may be placed on 'hold' for up to 10 days. If the item is not purchased/released after the 10 days, it will automatically be returned to active status. The exception to the 10-day rule is if measurement comparison, colour comparison/coordination of multiple items (i.e., coordinating bridal & maids gowns, or matching your gown to a vintage beaded purse/stole/gloves/veil), or similar, is required.

---
Shipping Policies & Fees ~
'A Vintage Wedding, Too' ships via the best and most cost-effective carrier, primarily the U.S. Postal Service, unless another carrier is better suited, or the item is oversized or heavy (the main reason that shipping wedding gowns is so costly - they are usually both bulky and heavy).

​We ship to all U.S. states, including Alaska and Hawaii, although these two states may incur additional charges, particularly for heavier or more bulky items. If you do not live within the 'lower 48', then please contact me prior to using the shopping cart, as the shipping fees are calculated for the continental U.S. only. Thank you.

While I do indeed want everyone to be able to quickly and expeditiously purchase their items, I also want to be certain that those items are in stock, and will fit properly (measurements compared) so that there are no disappointments!
Note! Larger gowns and multiple purchases may incur higher shipping fees. If so, I will promptly inform you of the additional fees.

I DO ship internationally, but please inquire prior to purchase as the shopping cart is set-up for local U.S. shipping ONLY.
I DO ship Express ~ please mention a request for Express Shipping in your note.

Thank you for your interest in 'A Vintage Wedding, Too'!

Terri Travers Goodin, Proprietor
---