Please understand that ALL vintage items will have some sort of flaw, albeit (in the best case scenario) perhaps only minor ones. These items, however, are flawed to the point that I cannot honestly give them even a 7 out of 10 rating. However, by no means are these items undesirable! If you are a collector, re-enactor, seamstress, or simply love vintage clothing, then you will appreciate the detail and pure craftsmanship of these vintage pieces. As always, please do not hesitate to contact me with questions. Only reasonable offers will be considered.
NOTE: If you are interested in one of these items, and would like to have it altered (add/subtract fabric; alter hemline; remove sleeves; etc.), please feel free to contact a sewing professional in your area by visiting our '
Seamstress Directory
', to determine what is feasible and cost-effective.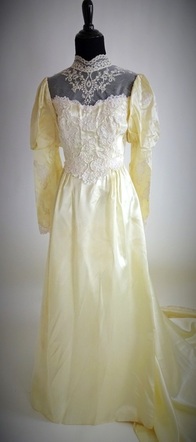 #115 ~ Mid-1970's (circa 1974-1976) Buttercream Yellow Satin & Ivory Lace Gown w/Embroidered Cameo Illusion Neckline & High Collar

Very Victorian-esque, which was a typical look in the early 1970's. This is a lovely soft buttercream-coloured (very much leaning towards yellow) gown, but it does have some flaws (please see photos). If someone wanted to take a bit of effort, this could be lovely again. The satin fabric is in great shape, as far as being intact with no tears. It does, however, have staining at the edge of the train and intermittent (pale) spotting (most about the size of a pin head; one or two the size of a pencil eraser head) throughout the skirt. My suggestion would be to re-hem (thereby eliminating the staining) or make an overlay out of chiffon or lace to entirely cover the skirt. The back bodice also has a previous 'mend' in the net (see photo).

Measurements: Bust 32"; Natural Waist 22-23"; Hips 33-34"; Length 55"

Please click on the thumbnails below for further details.

Condition: 6 out of 10

​Price: $10.00
---
---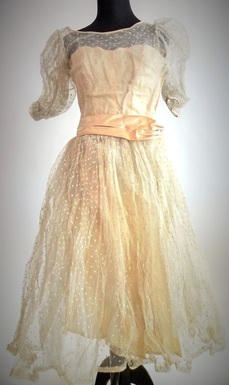 #222 ~ 1940's Dusty (literally, too) Peachy-Pink Dotted Net Tea Gown w/Slipper Satin Cummerbund Sash

I love this darling tea gown, but it's in rough shape. The dotted swiss net fabric is quite dingy, rather stiff, and is deteriorating in places (see pics) on the bodice. The skirt, however, appears to be in better shape. The slipper satin sash is intact, as is the lining. I do think that this gown would make an excellent display or dressmakers pattern. Steel hook-&-eyes. Side metal zipper.

Measurements: Bust 32"; Natural Waist 22"; Hips 33"; Length 40"

Please click on the thumbnails below for further details.

Condition: 2 out of 10

Price: $5.00

---
---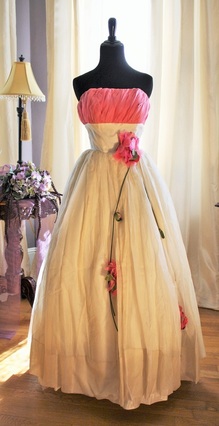 #241 ~ Late 1950's Hot Pink & Ivory Organdy Prom Dress w/Floral Detailing!

Exactly what comes to mind when you think of those favorite 1950's/60's movies, like 'Gidget', right? Those oh-so-amazing strapless prom gowns that 'swished' when they walked and looked fitted & fantastic ON. This one is really terrific, but it does have a couple of small flaws. I hate to give it a '7.5', because I think that it's so much better than that....but it definitely needs someone who will take care of it. Hot pink ruched organdy bodice has faded a bit, particularly at the very top, where the fabric meets the body. There are two inside hanging straps and the ruched pink fabric had pulled away/split where those straps meet (see photos). There is also a " mend in the skirt (which is very difficult to find/see). The rest of the gown is in good shape. Fun fabric flower embellishments. Back zipper. Fully lined w/attached crinoline. No inside tags. Still quite wearable (please see professional photo pics).

Measurements: Bust 34"; Waist 23"; Hips Free; Length 56"

Please click on the thumbnails below for further details.

Condition: 7.5 out of 10

​Price: $35.00

---
---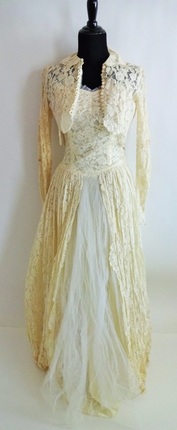 #266 ~ 1950 Deep Ivory Lace & Net Gown w/Bolero Jacket

While this ca.1950 lace and net gown w/matching long sleeve bolero jacket was someone's fabulous wedding gown, sadly it has seen better days. The lace is simply old. It's still intact, but it's to the point where it is quite crisp. Again, it has not shattered.....yet. While it is still intact, I would hope that someone will purchase it and restore it, or use it as a pattern. It's really a lovely example of the era. The gown itself features spaghetti straps and a ruched bodice with dropped waist. The matching long sleeved bolero jacket with peter pan collar has matching lace-covered buttons-&-loops up the front. The skirts' lace is split in the front to allow layers of tulle to peek through. Really a tremendous gown. The bolero jacket has button-&-loops up the entire front and features a peter pan collar. The jacket's sleeves each have small stains at the elbows.

Measurements: Bust 32"; Waist 22" (max!); Hips 33"; Length 58"

Please click on the thumbnails below for further details.

Condition: 4 out of 10

Price: $15.00
---
---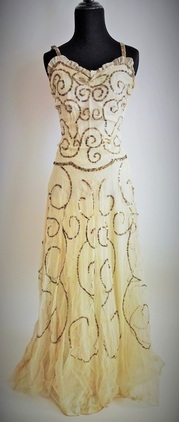 #279 ~ 1930's Bias-Cut & Sequined Net Evening Gown

This is truly an amazing gown, but it is, unfortunately, flawed due to age and, I would assume, improper original storage/care. I do think that this gown would make an excellent display, dressmakers pattern, or could even be restored, if you're willing to take the time. What a gem you would have!
Fully lined, long sweeping gown with a small brush train in the back. Ruffled sweetheart neckline with ruched upper-front bodice and dropped waistline. Scrolled sequin design is gorgeous.

Measurements: Bust 32-33"; Waist 23-24"; Hips 33"; Length 61"


Please click on the thumbnails below for further details.

Condition: 2.5 out of 10

​Price: $10.00




---
---